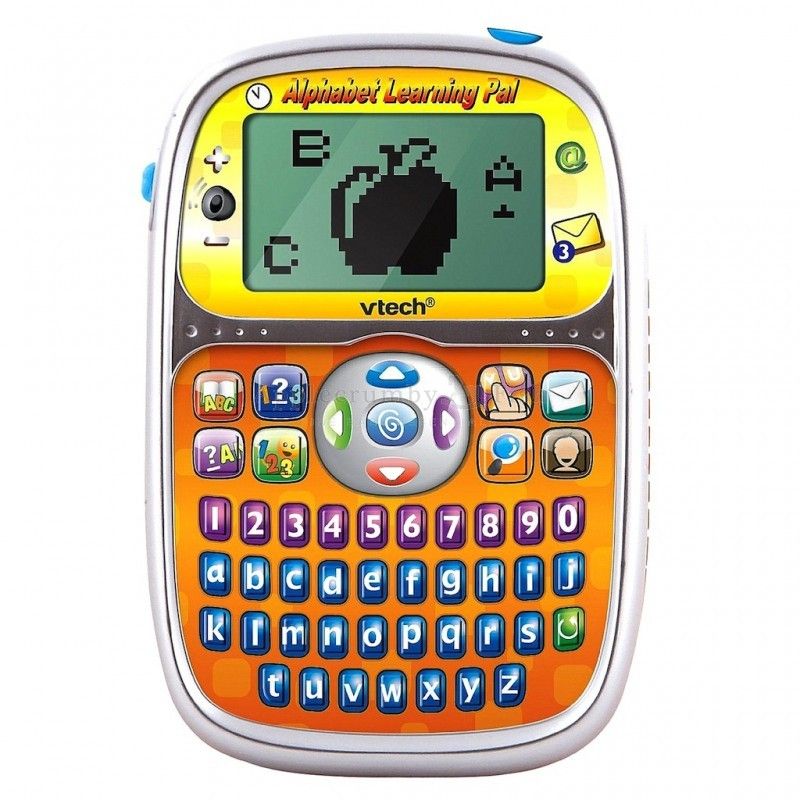 Vtech Alphabet Learning Pal 

Vtech Alphabet Learning Pal adalah mainan PDA interaktif dengan big size LCD screen, abc keyboard, 0-9 number keys, dan 4-directional cursor untuk mengenalkan anak pada huruf, kata, angka, dan logika melalui media smartphone sekaligus melatih role play anak. Hadir dengan 8 fun activity modes dan fitur messaging, mainan ini juga dilengkapi creation station yang memungkinkan anak menciptakan teman virtualnya sendiri.
Alphabet Projector

Projector kecil bisa memantulkan gambar lucu ke dinding, ada 24 gambar alfabet ant, bee, cat, dog, dst. Hasil gambar berwarna. Tinggi projector 10cm.
Talking Alphabet Player

Buku elektronik dengan warna atraktif, untuk belajar alfabet dan penggunaannya pada kalimat. Ada 5 mode:
1. Mengenal huruf (Contoh: Beetle, the beginning letter is B that sounds 'B')
2. Spelling (Contoh: Ant is spelled A-N-T)
3. Permainan phonic (contoh: Find the beginning sound of HEN?)
4. Find it (contoh: Where is the letter B?)
5. Music (contoh: Plane bila di tekan tombol akan keluar suara pesawat)
Features: 5 activites include alphabet and phonics sounds, spelling, phonics games, and music creation, has 4 colorful turning pages, 8 cheerful melodies, 6 instrument sounds and zany sound effects, the grab and go handle.